Top 10 Interior Design Trends 2019
I personally am very excited for 2019, especially in the design realm! With trends moving away from stark, personality-void interiors, to authentic spaces anchored in self expression, meaningful pieces and natural materials. More than ever, homes are becoming a place for healing - our own personal sanctuary. Here are our top ten interior trends for 2019.
Artisan Pieces
With the collective consciousness becoming increasingly aware of the impact consumerism is wreaking on our planet and its inhabitants, we will continue to see a movement towards meaningful and unique artisan pieces. Pieces that preserve ancient artforms and celebrate diverse cultures and create truly unique homes.
"…we predict people will be more thoughtful about acquiring long-lasting pieces from different periods and styles to create interiors that are intrinsically unique." Gabrielle Savoie for MyDomaine
More Mustard Please
Shades of mustard, burnt yellow and marigold add warmth and authenticity to any room. Manifesting itself in a variety of textures and forms from velvet seating to textured rugs and cushions and patterned tiles. Mustard is so versatile, working together with many of this years trends including Seventies Chic and Natural Materials. Pairing well with deep tones such as royal navy and merlot and natural fibres such as jute, rattan and tan leather.
"Uplifting colours smooth out the rough edges with their authentic optimism." Andrea Lucena-Orr for Dulux
Keep It Natural
From clay, rattan, wool, jute, linen and palm, natural materials create a nurturing and grounding environment, subconsciously combating the effects of our overtly technology filled lives - creating a place of healing.
"Items made by hand using sustainable materials like jute, rice paper, and clay will be in, in 2019. We see people needing these grounding elements in their homes as a way to feel more in touch with the earth and their roots." — Kristen Peña of K Interiors
"For 2019, there is greater interest in biophilia–emphasizing the relationship between humankind and nature, and the connections between the two. Natural, organic materials–such as wood floors, stone, and daylight and plant life–remind us of the exterior and brings the outside and nature, in. We are machine- and technology-driven society, but nostalgic about past processes and handiwork, so opportunities for custom Millwork and crafted materials are very important."—Angie Lee of FXCollaborative for Elle Decor
The New Feature Wall
Walls are no longer just for hanging traditional art. We see a melting-pot of exotic artifacts from wooden masks, ceramics, jewels, tin and textiles. Unique pieces invoke stories of far away places and remind us of meaningful experiences. It's all about filling your home with pieces that inspire and bring a smile to your face.
"If the walls in your house could speak, what would they say? Would they tell tales of adventure, of connection, of love, of caring? ... How you decorate your walls tells of the journey of your life. Of you..." Shannon Fricke
Seventies Chic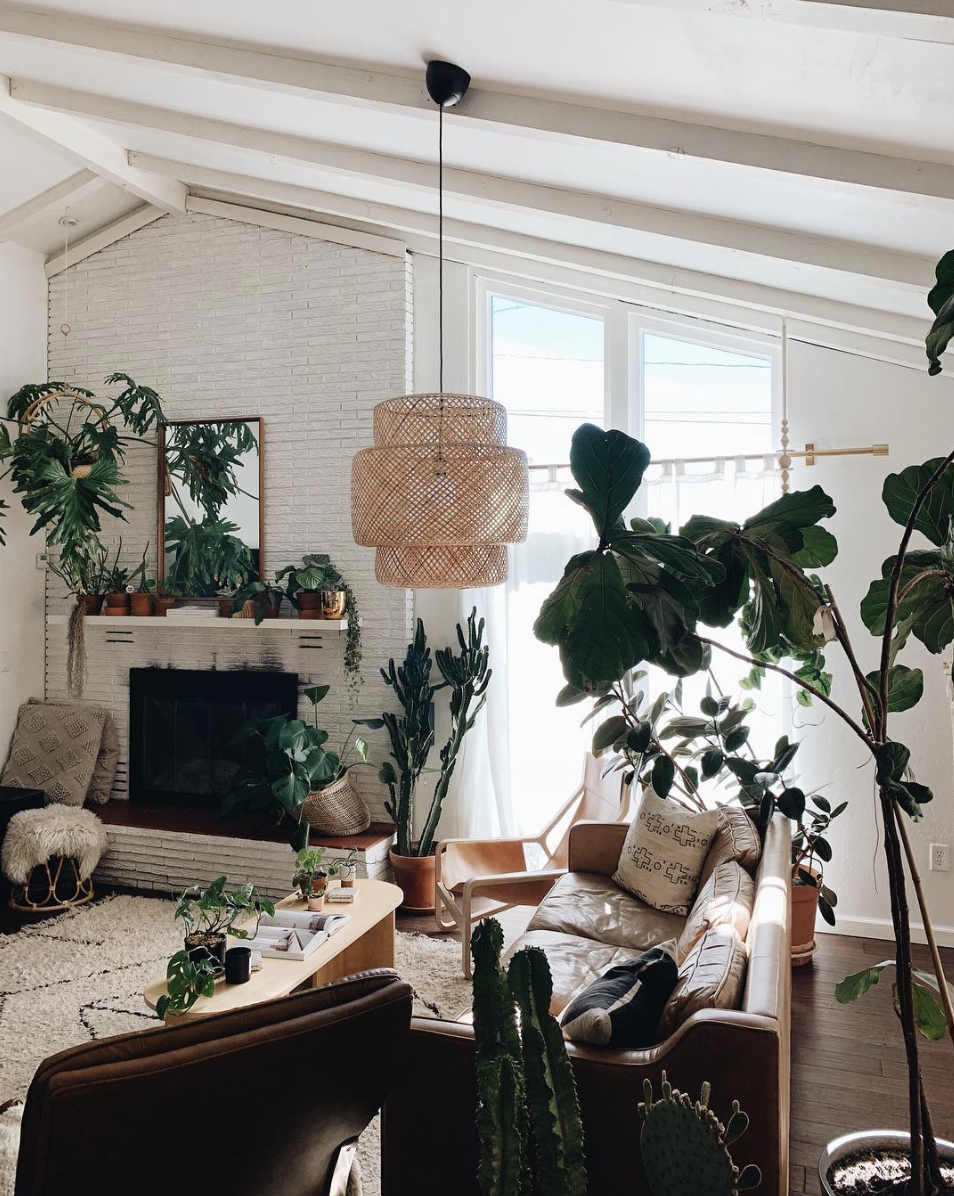 Forget macrame and …. we're talking seventies chic - a contemporary reinterpretation on the "decade that style forgot". Think groovy textures, organic shapes (such as the covetable mushroom lamp) and lots of leafy greenery.
"Trending earthy tones of mustard, ochres, tans and browns form the colour palette, with finishes such as timber, brick, slate and the enormous resurgence of terrazzo all throwing back to the interior style of 1970s and 1980s interiors." Diana Moore for Home Beautiful
Merlot, Teal and Navy, Oh My!
Grey, greige and beige are a thing of the past as designers embrace deeper jewel tones to bring a modern feel to spaces. From merlot and rust, to jade and evergreen, to navy and Klein blue, colours that evoke a sense of emotion. Natural finishes will become the new neutral and gold accents, the perfect finishing touch.
"After a lot of bright white interiors I am loving the deeper hues that we are seeing in the design world. Even if you do lean more on the neutral side of the design world you can bring in doses of those deeper colours to give your room more depth and visual interest." Bobby Berk for Vogue Living
Get Floored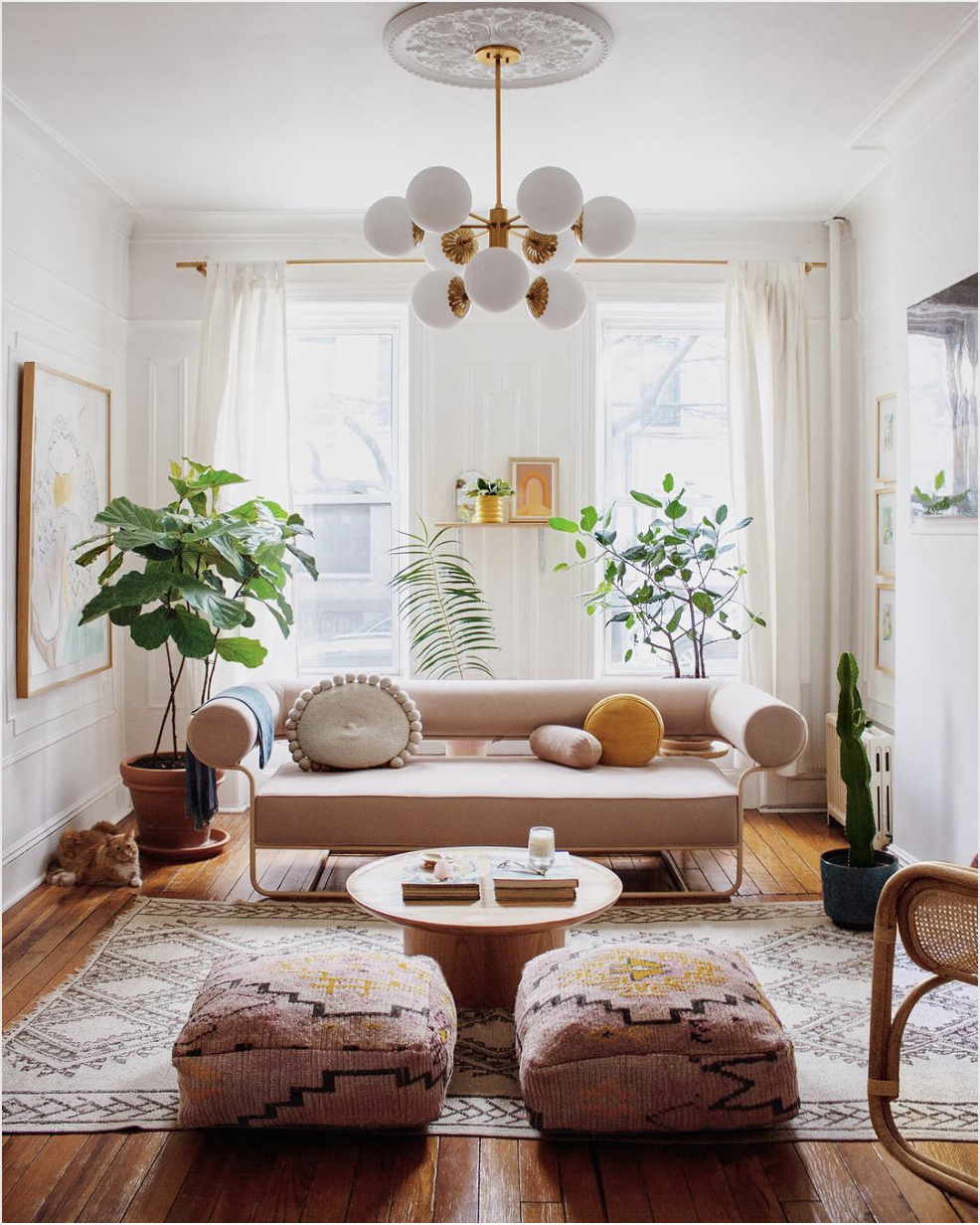 We see a shift towards homes that are focused on comfort rather than formality, creating a feeling of cosy contentment and wellbeing. What better way to achieve this than with over-sized plush floor cushions placed around your living space. Whether they're made from repurposed global textiles or leather, round or square these pieces are a great way to introduce a softness back into your home.
"Design doesn't have to be perfect. It should feel lived in, authentic and always relate to the person that lives there. Embrace the imperfections and fill your space with items that make you happy and you love to live with." Bobby Berk for Vogue Living
Cacti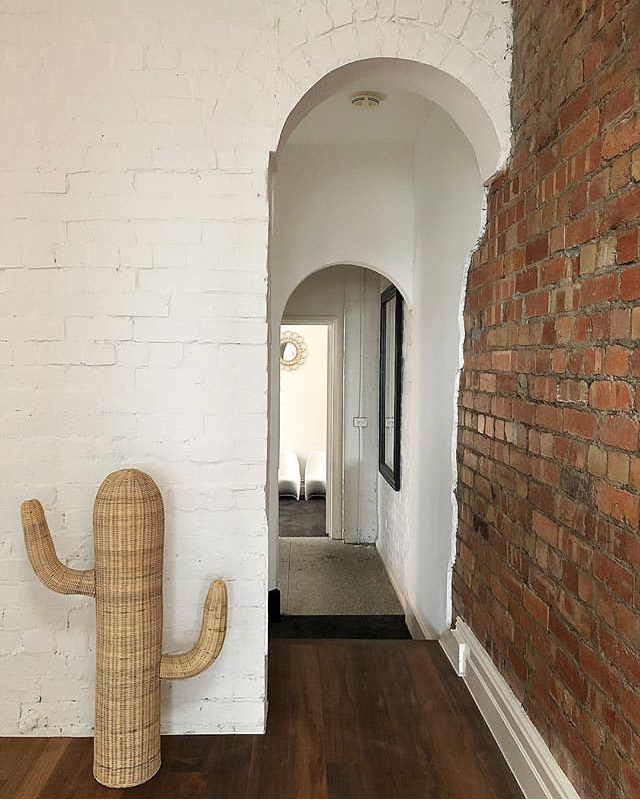 According to Pinterest, searches for "cactus arrangements" are up 235 percent. An update on the popular succulent, and equally as easy to care for, cacti are having a moment. Not simply in their natural form, we also see the cactus form come through in ceramics and wicker decor.
Rustic Charm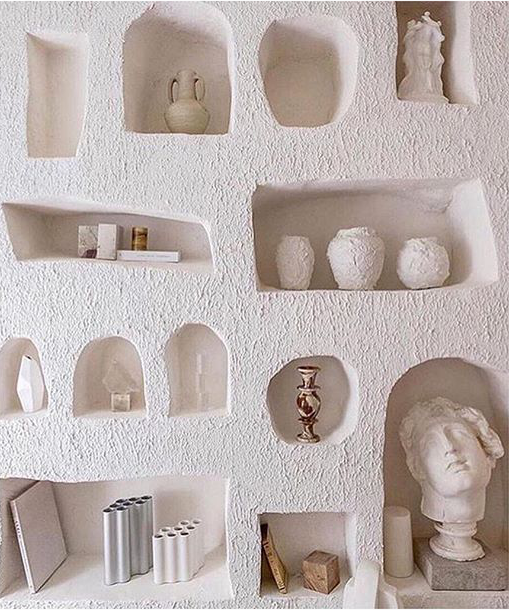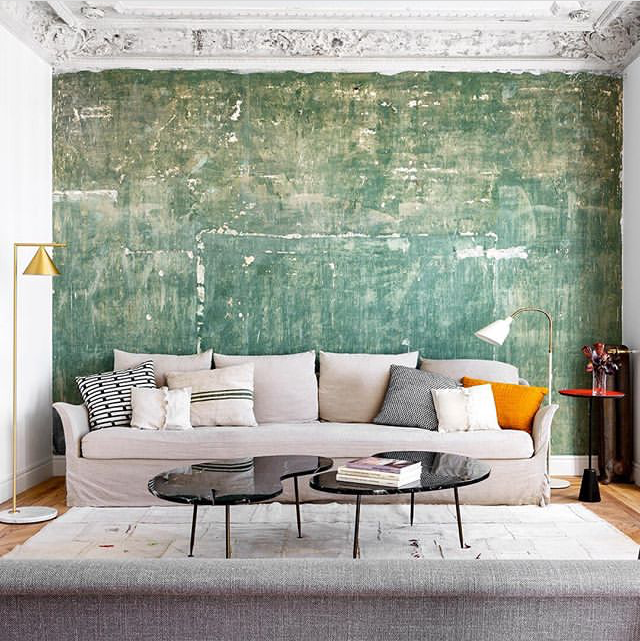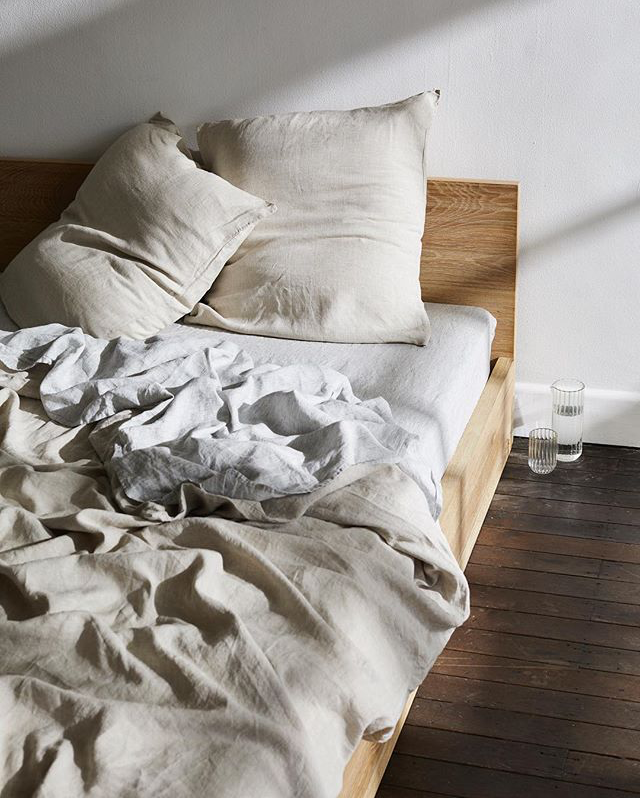 Authentic interiors that speak of history rather than superficial facades. Think stonewashed linen, exposed walls revealing layers of history, shelving hand carved into stucco walls.
"If 2018 was the year of Hygge, then 2019 is the year of Wabi Sabi. This design trend focuses more on the functional and less on the decorative while embracing imperfection in its finish and style. It's a relaxed vibe that is not only functional but inviting and I'm personally very into it." Bobby Berk for Vogue Living
Maximalism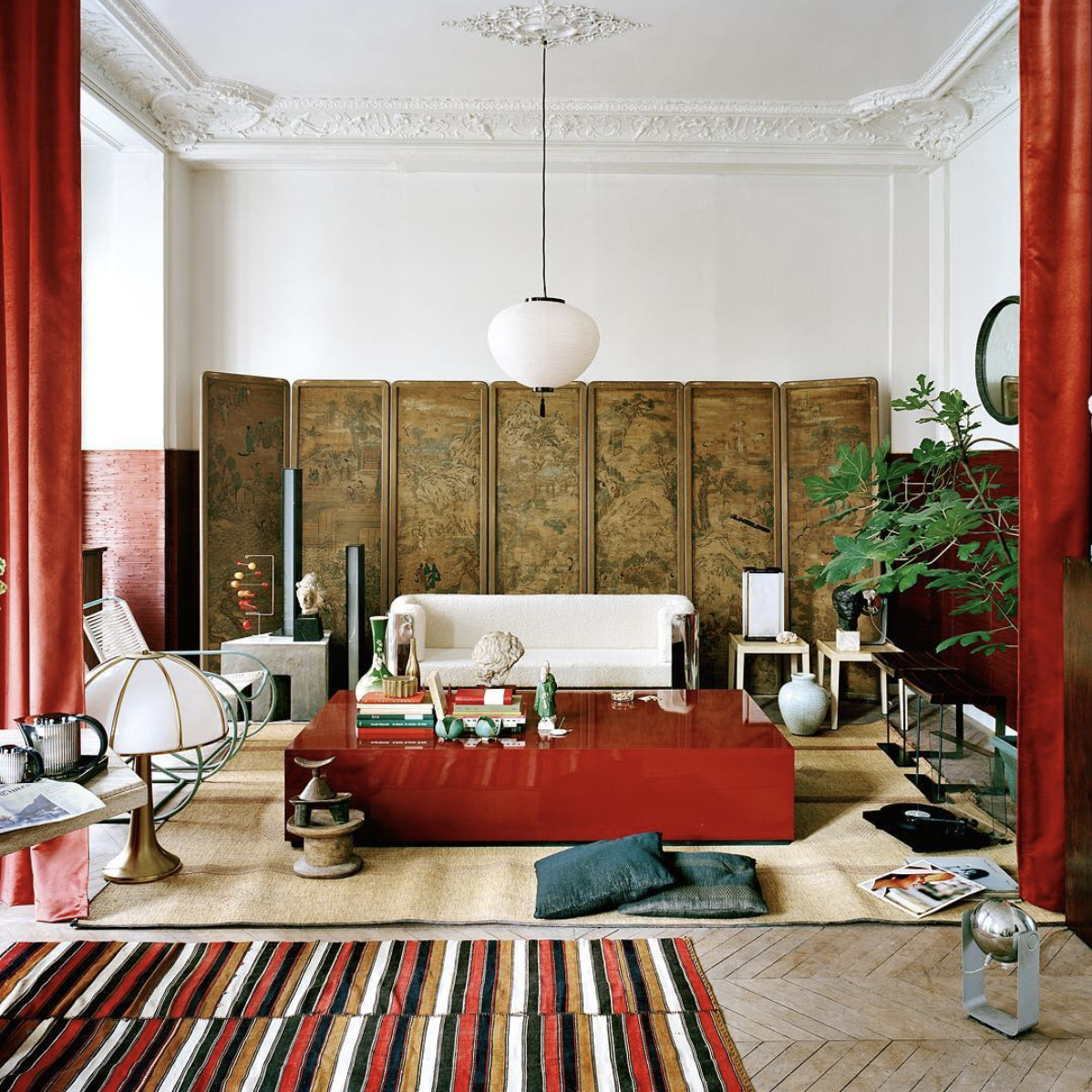 Not quite "more is more" but rather "well-thought-out-and-considered-more is more". Bold colourful prints in flooring, wall paper and textiles, brave colour clashes, texture combinations and art inspired decor.
"To me, maximalism is the epitome of the passion, power and joy that can be expressed through a room…" Marilyn Taylor for House Beautiful
Tell us what you think: what are your favorite trends for 2019?