On The Road With Thread Caravan - Mexico's Favourite Cultural Art Workshops
Have you ever looked at a beautiful piece of textile and thought, "I wish I could make that"? Well allow us to introduce you to Thread Caravan.
Thread Caravan hosts cultural art workshops all around the world. We first heard of them about three years ago while living in Guatemala. Caitlin the owner was just starting out. We seemed to be on a similar path, living and working in the same villages, sharing similar experiences, but always a month or so out of each-others reach. Finally we met a month ago in Oaxaca, where she invited me along to document her upcoming Natural Dye and Weaving workshop.
Thread Caravan has paved the way for short-term immersive travel experiences that are normally reserved for long-term vagabonds. For anyone who wants to learn crafts from artisans who live and breath ancient traditions every day, take home a recipe that's been in a family for generations Thread Caravan is for you. Caitlin has walked these roads, spent time building meaningful relationships with artisans and now gives you access to their world.
Based in the textile heritage home of Teotitlan de Valle, Thread Caravan guests were about to get an insight to some of the most beautiful textiles in Mexico! They will learn about extracting red dye from a the Cochineal bug, weave their own rug and finish up at a natural infinity pool overlooking an ancient valley.
Emily and I spend a lot of time in this village, its where we first fell in love with Oaxacan textiles! Its where we produce our rugs and share friendships. I was ecstatic to share along the journey.
I'm generally not the sort of traveller to do a tour, actually I have spent all my years travelling trying avoid them at all costs. But from the first moment I met the group I could feel this was different. I entered the hotel to find six people of different ages and backgrounds sharing breakfast - people are laughing, sharing stories, it feels more like a group of new friends than a tour and this feeling is echoed over the following days.
Teotitlan - 'Place of the Gods' lies at the base of Sierra Juarez in Oaxacas central valley. There are about 150 families working with textiles.. As you pull of the highway the horizon is filled with a encompassing mountain, agave plants and cacti scatter the road. Weavings hanging from fences, dogs barking as you fly by. There is no mistaking that you are in a textile heaven.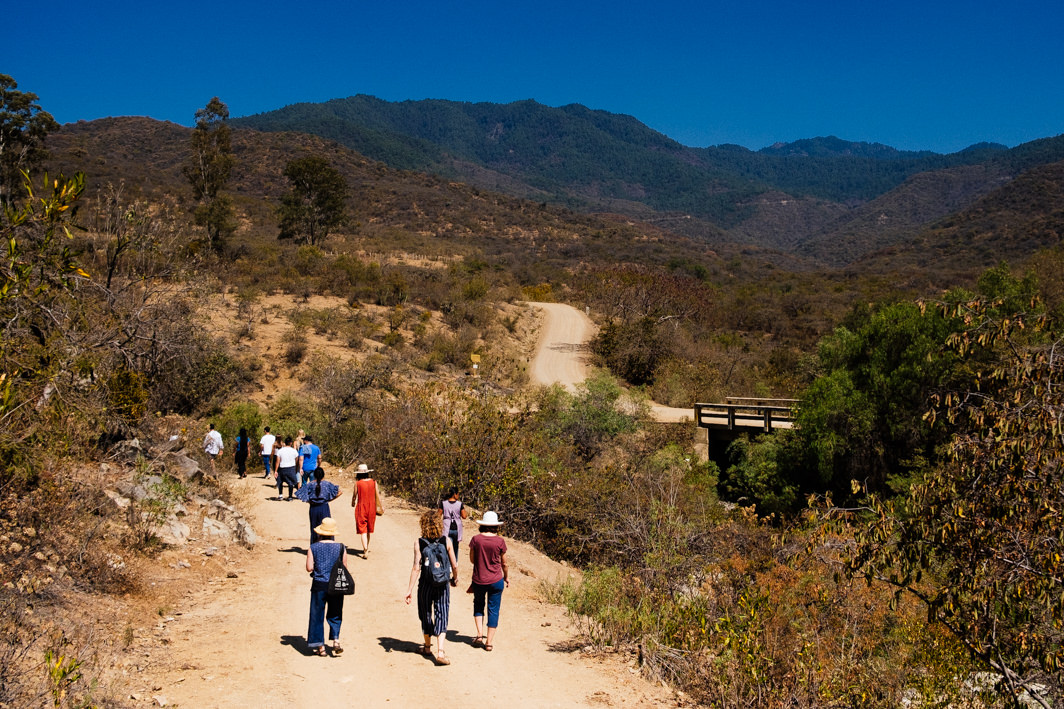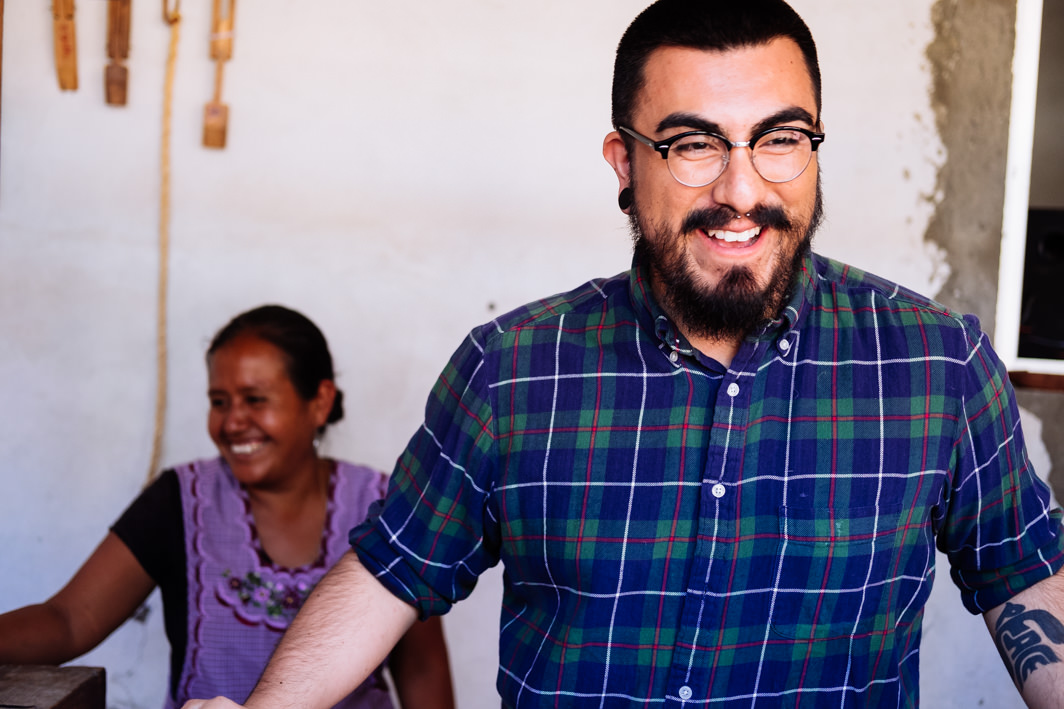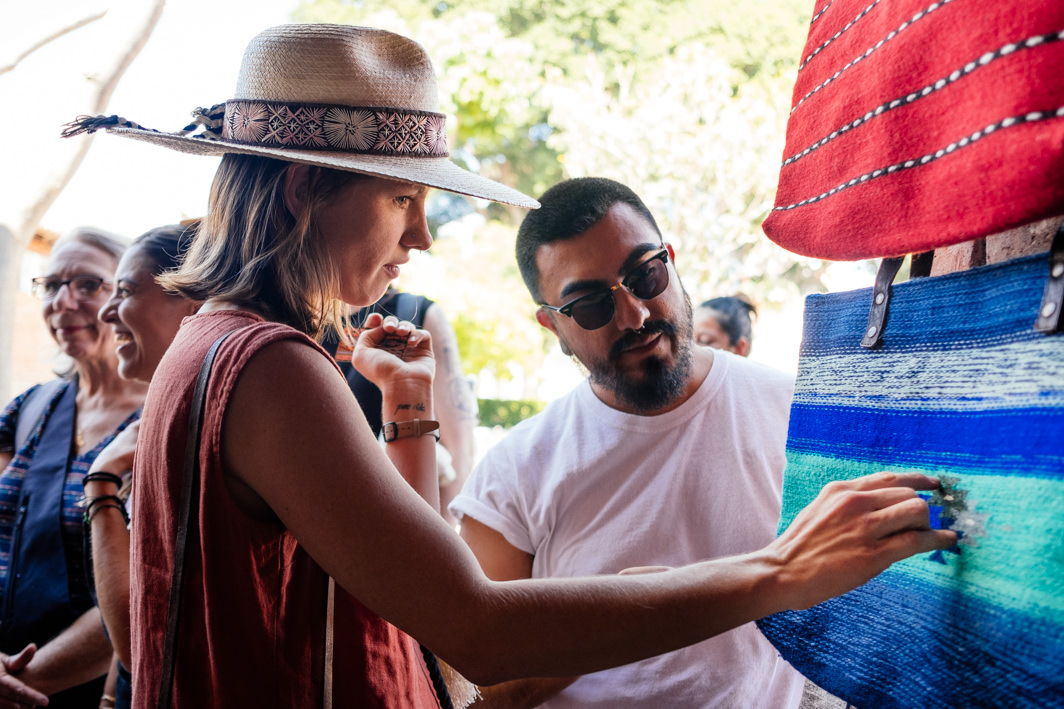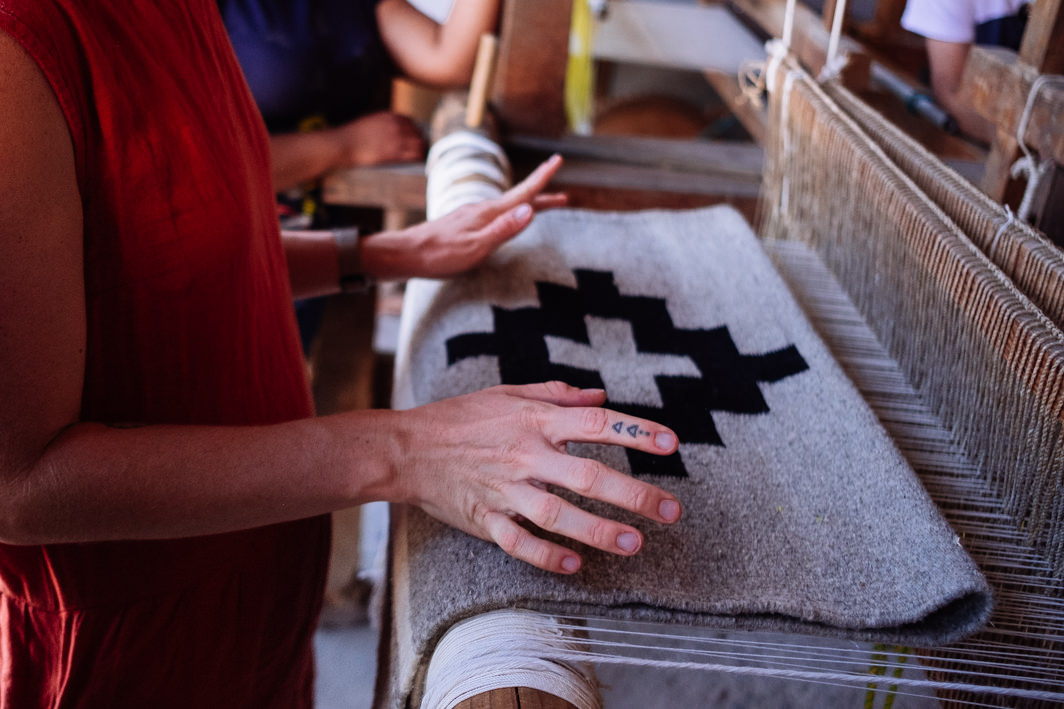 Thread Caravan has partnered with Vida Nueva a locally run women's co-op who have accelerated positive change in their village and are leaders in their craft. We learn about the weaving process - first they wash the wool, then they dry it, then they re-wash it, spin it, dye it, re-wash it, weave it into a rug, then give it a final clean finishing the heirloom piece that we all fall in love with.
Slyvie and the other weavers start showing how the wool is spun and invite me to have a try - herein lies the beauty of a tour like this – an insight into how much skill and labour go into every step in creating these pieces. Trying my hand at it, gives me a deeper appreciation for these traditional and fading techniques. I really struggle not to break the thread, as the spindle turns as it has done for centuries.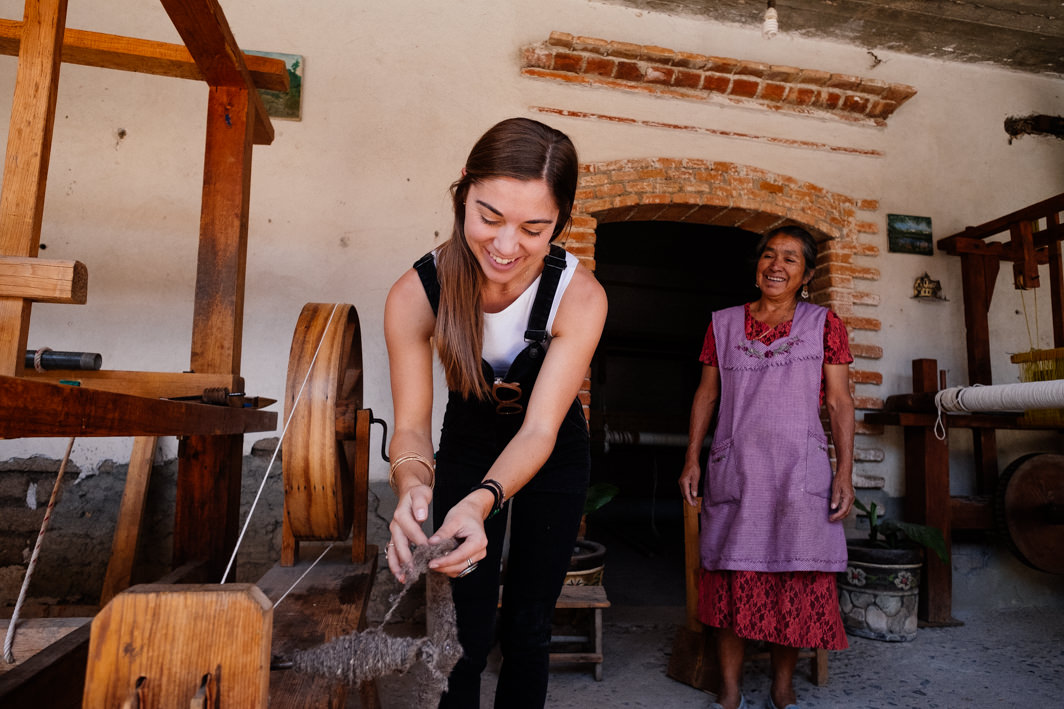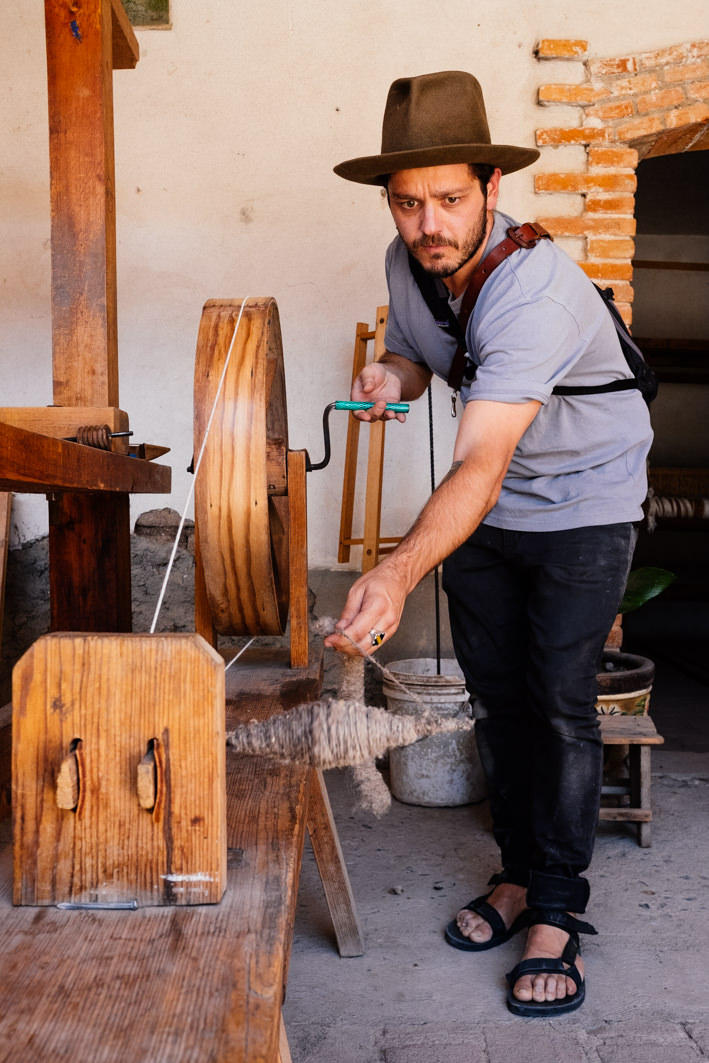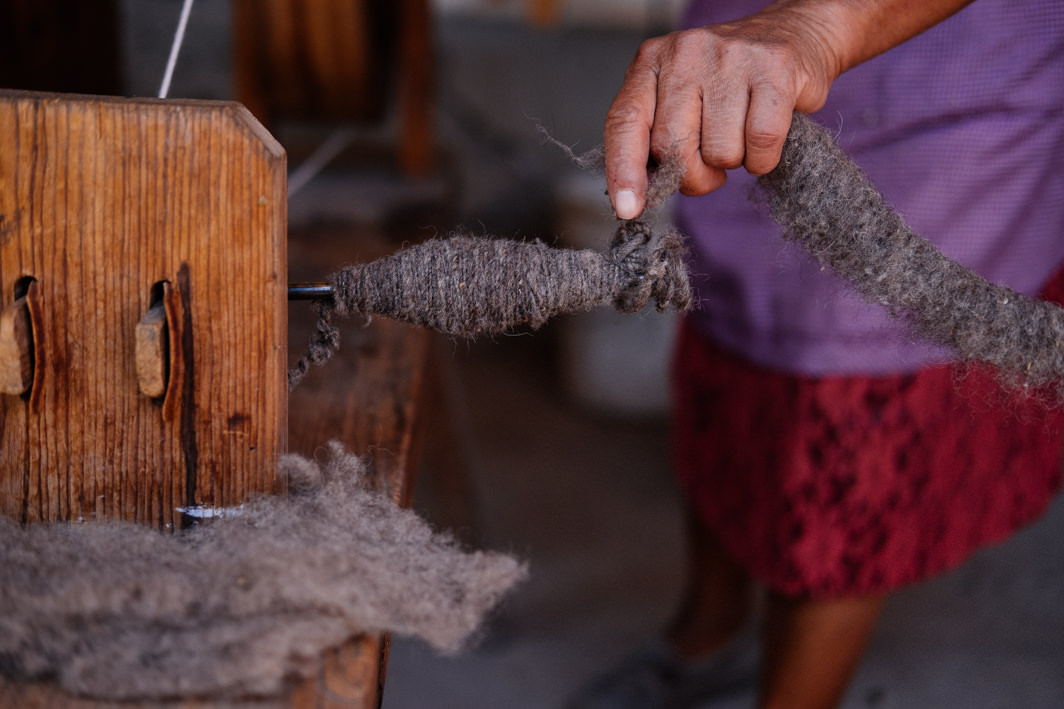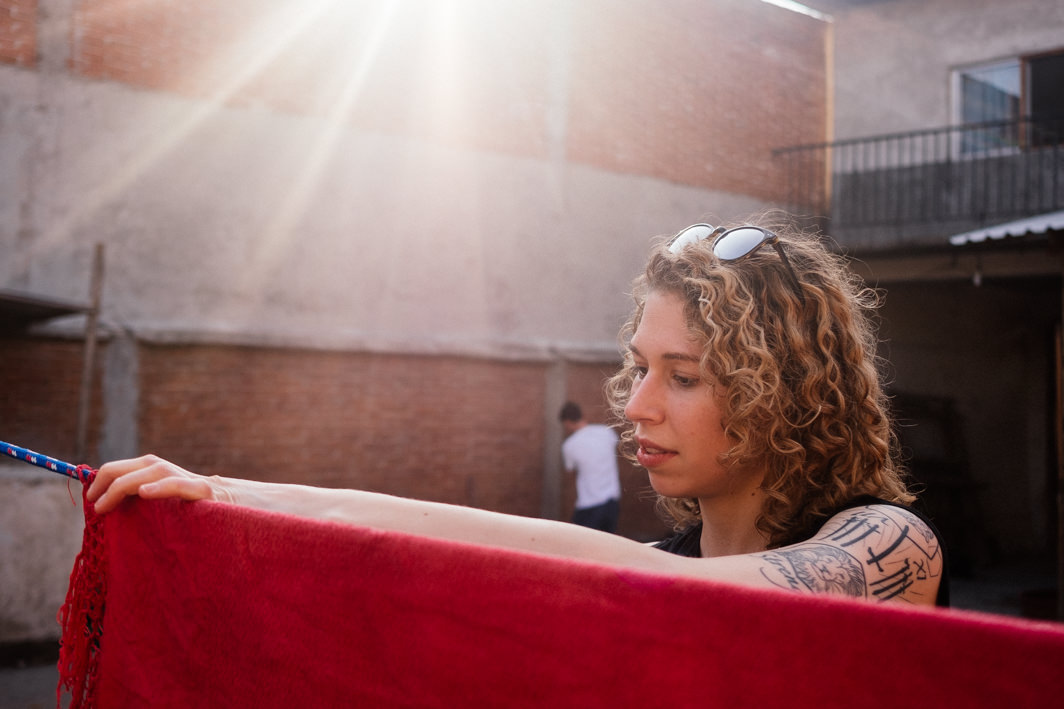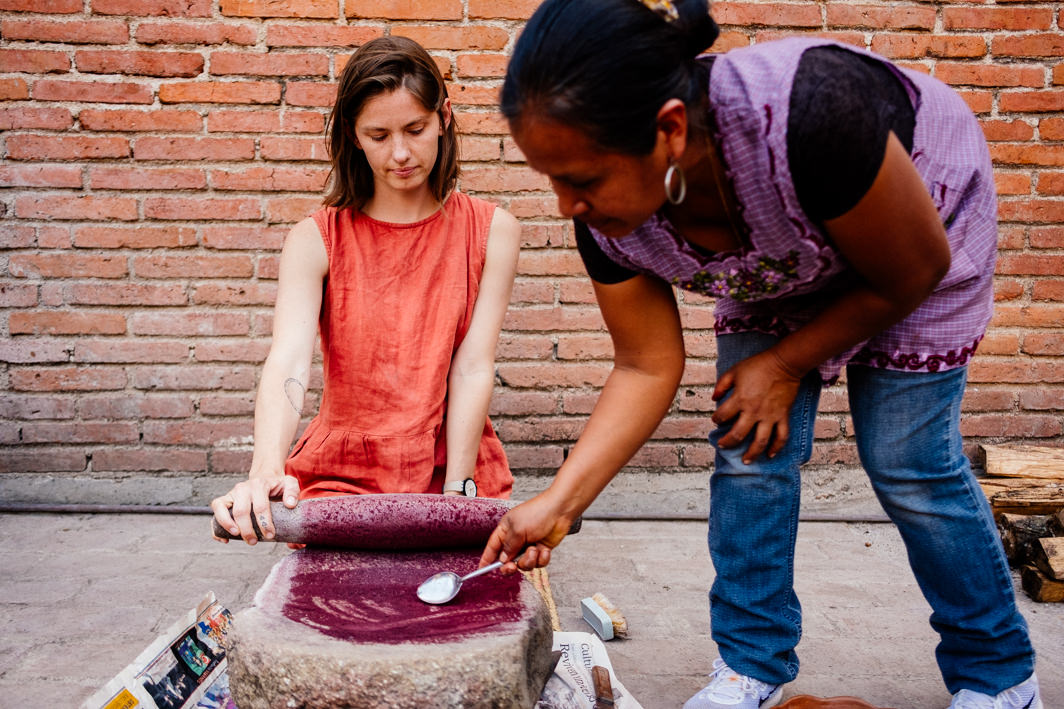 Next the group learns about the natural dye process, specifically the highly valuable indigo and cochineal. We each take a turn in grinding the cochineal into a stone before preparing the dye. You can produce over 50 different beautiful tones of red with this dried female insect that feeds on the nopal cactus, sucking moisture and nutrients from the flat prickly paddles.
The group spends the next few days weaving their very own rugs with the help of Slyvie and her team. I return to find a group of amateur textile weavers, faces fiercely focused, tired but content, rugs proudly in their hands. This hasn't just been a holiday, they've learnt a new skill, and gained an understanding of this ancient art form; they know how hard this is, what hand made really means and now they have a piece of textile that they'll cherish forever.
To see Thread Caravan's upcoming tours click here